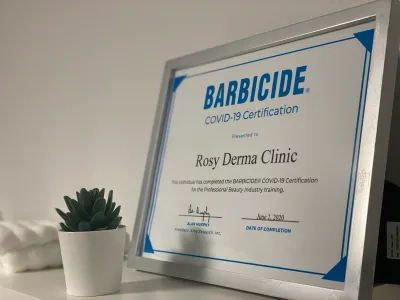 Please be advised the safety and health of our clients is of paramount importance to us at our clinic. Pre Covid-19, we have consistently abided to sanitary protocols as well as general cleanliness procedures, as guided by Health Canada. Preventative measures such as thorough sterilization have always been followed to ensure client safety. Infection control protocols are of utmost importance at Rosy Derma clinic!

Post Covid-19, we have been even more diligent in implementing new safety precautions to ensure the safety of every single client. Covid-19 has expanded our clinics' procedures and protocols as they pertain to sanitation and sterilization.

Specifically, adherence to the following rules will become mandatory once municipal, provincial, and federal authorities permit for the re-opening of our clinic. During these unprecedented and challenging times, we are here to guide you through every step to prioritize your comfort, safety and sanitation requirements. We will be implementing the following specific protocols due to COVID-19:
All consultations will be conducted via phone prior to arrival. The consent and medical history form can also be completed over the phone.
The day of the appointment, a self-assessment questionnaire will need to be filled out prior to arrival. If any of the questions result in "yes," please call us to reschedule your appointment after the required 14-day self-quarantine ends. The questionnaire can be found at the following link: https://covid-19.ontario.ca/self-assessment/
Temperature will be assessed by a touchless Health Canada approved thermometer upon arrival. The clinic has the discretion over cancelling appointments if a client has displays symptoms related to COVID-19.
Hand hygiene will be performed by the client and clinician alike.
Expansion of clinic hours to accommodate clients and space out appointments by a minimum of 30 minutes to ensure proper sanitization of equipment and prevent clients being present at the same time. Please refrain from bringing guests.
Continuing our existing sanitization of changing of sheets and other equipment in between each client.
All clients and technicians alike will adhere to face mask requirements. The technicians will also be wearing gloves, and other safety equipment to ensure safety for all.